Go Hard or Go Home Half Marathon
Sunday February 5th, 2017
@ 10am!!
Prospect Park
Brooklyn, NY

| | | |
| --- | --- | --- |
| | The 2017 Go Hard or Go Home Half Marathon is the 6th annual event that celebrates the life of a great young runner from the neighborhood that ran with the best of them and honed his crafted on the pavements of Brooklyn. Sammy Lazir was a gifted runner that embraced running at an early age and he blossomed into an elite runner from high school into college. So join us this Super Bowl Sunday and tackle this great race while celebrating this young life and really Race Like You Mean It at the Go Hard or Go Home Half Marathon!! | The 2016 Go Hard or Go Home Half Marathon Results! |
Race Day Details
Hello Runners,

We quickly approaching this year's Go Hard or Go Home Half Marathon. Here are the details you need to know for race day.
The Course:
The course will now be just shy of 4 loops of the outer ring of the park. Water stations will still be found approximately every 1.5 miles. The course will still be a challenging yet scenic tour of one of the most famous urban parks in the world!
The Starting Line:
The Start/Finish line will be located at the Grecian Columns located on the southern end of the park off of Park Side Ave directly across the streets from the Tennis Courts. On street parking can be found on Park Side Ave and Prospect Park South West. The F, G, B and Q trains are also all near by. Please see the below maps for details.
Bib Pickup:
The race will be starting promptly at 10am. Bib pick up will be held on site from 8:30-9:30 at the Grecian Columns and on Thursday from 4-8pm at
Triby3 Performance Studio
located at 597 Degraw St, Brooklyn, NY 11215 Suite 2F. Please do not wait until the last minute so that we can be sure we start the race on time. Come early, get your race day materials and have plenty of time for your pre race warm ups and routines. There will be a baggage check nearby for your belongings.
Post-race:
After you all kick butt in the half marathon we will provide bagels, chips, cookies and water at the finish line. Please hang out and bask in the pre-super bowl fun.
Thanks for choosing Trimara Sports and we look forward to racing with you at the Staten Island Half Marathon on April 2nd.
The Race Guys
raceguys@trimarasports.com
Go Hard or Go Home Course Map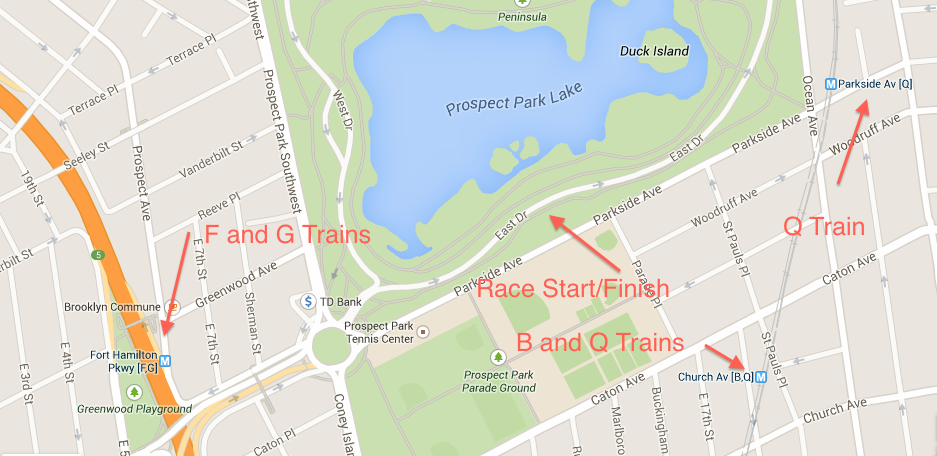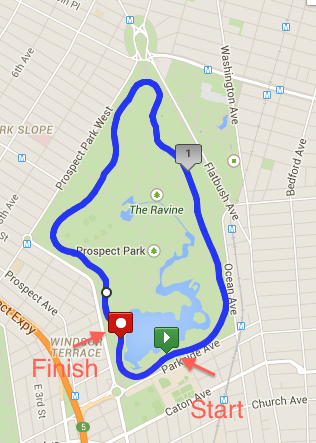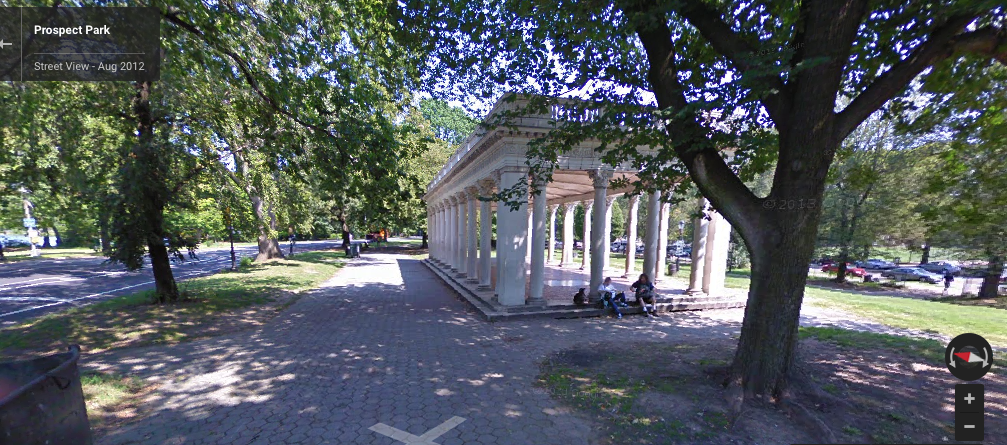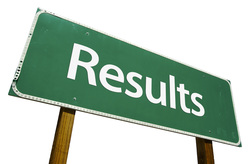 The 2015 GO Hard Go Home Super Bowl Sunday Results are in!!
We had a great day with an outstanding bunch of runners, spectators, staff, volunteers, and a beautiful Lazhir family. Almost Four Full Frigid Loops of Brooklyn's historic Prospect Park set the stage for what has become a fan and family friendly race. Today we went HARD in the memory of a Brooklyn Runner that always went HARD in his running career. Hey, it was Sammy Lazhir's motto... GO HARD or GO HOME. And our bold and brave runners today did just that! Congrats everyone. You earned your medal, and you earned your Super Bowl Spread!
---
The 2014 Go Hard or Go Home Half Marathon!

Wow... what an amazing race today at the Go Hard or Go Home Half Marathon! A beautiful race to honor the running life of a great friend Sammy Lazhir. Thank you to all of our dedicated runners for pushing themselves and giving it all they got.. from Brent's first place finish to Jessica's new PR! Great job runners!! Trimara Sports also thanks our staff and volunteers, another stellar performance making sure our runners had a fun and safe course. Thank you Badeah, Ahmed, Omar, Gennero, Vince, Anne Marie-happy birthday;), Toni, Emma, BRAVO, John Edwards, Ralph Yazzo, The FHHS Girl's Track Team, Sammy's friends, and especially, The Lazhir family! A special thank you to our race directors Timothy "Irish Lightening" Clarke and Mike "Coach" Kasper for another job well done! Click the results sign to see your finish! Congrats everyone!!