Saturday December 9th, 2017


9:30AM!


Price $50
Shore Road Promenade
Brooklyn, NY 11209
Finisher Medals will be Given Upon Completion

2017 Holiday Half MarathonBib Pickup:
In order to help your race morning go as smoothly as possible we will be offering advanced Bib Pickup on
Thursday
December 7th
from
4pm-8pm
. Bibs will be available at
TriBy3 Performance Coaching
located at
597 Degraw St, Suite 2F in Park Slope, Brooklyn
. Just take the R train to Union Street station and walk north from Union Street to Degraw Street and 4th Ave. Turn left and we can be found on the right hand side of the street.
The race will be starting promptly at 9:30am. Bib pickup will also be held on race morning right at the starting line on the American Veterans Memorial Pier from 7:30am-9am. Please do not wait until the last minute so that we can be sure we start the race on time. Come early, get your race day materials and have plenty of time for your pre-race warm ups and routines.
There will also be baggage check available at the Start/Finish line for your belongings.
Transportation and Parking:
The race start/finish as well as registration will all be held at the
American Veterans Memorial Pier
located at 6901 Shore Road. There will be on-street parking on Shore Road and its adjoining streets. You can also take the R Train to the Bay Ridge Ave station located at Bay Ridge Ave and 4th Ave and walk west -- toward 3rd Ave -- until you reach the water. It's about a 0.6 mile walk to the pier. Please leave yourself plenty of time to arrive! The R train does not run from White Hall to Court Street anymore so plan accordingly.
Route:
The route will be a multiple loop out-and-back course along the Shore Road Promenade. This spectator friendly course will start running south along the promenade for about 3.25 miles before turning back to the starting line. You will complete two loops. The finish line will be back at the American Veterans Memorial Pier where you can collect your
FINISHER MEDALS
and bask in your accomplishments – It is impossible to get lost. The course support will remain open for 3 hours and the finish line will remain up for 3.5 hours.
Post-race:
After you all kick butt in the half marathon and collect your
FINISHER MEDALS
we will provide bagels, chips, cookies and water at the finish line, but for those looking to CELEBRATE their new PRs please join us at
The Brooklyn Firefly, located at 7003 3rd Ave,
where we can all enjoy a job well done. Come for the race, but stay for the FUN.
Thanks for choosing Trimara Sports and we look forward to racing with you at the Holiday Half Marathon.
The Race Guys
raceguys@trimarasports.com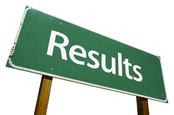 The 2016 Holiday Half Marathon!
A holiday superific race with bells and whistles! We saw some amazing feats today on a wild and windy course with some of the best views the city has to offer. Congrats to all of our runners and a very special congrats to first place male Samuel Gotts and first place female (2nd place overall!!) Bonnie Averbuch! Great racing everyone! Click "results"for your results!

---
Starting line, Transportation and Post Race Party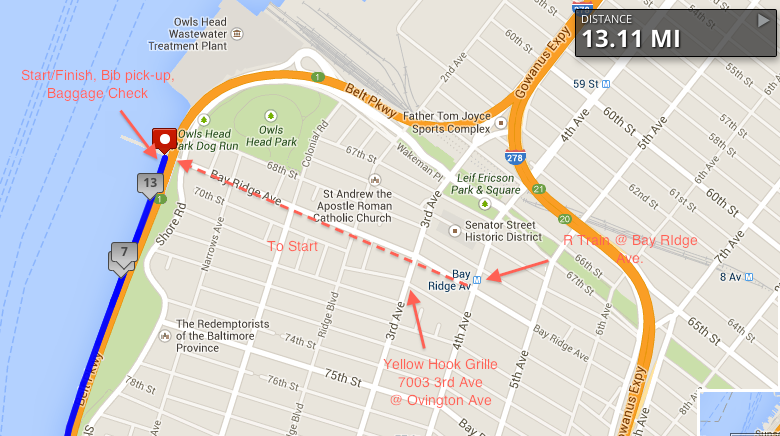 Middle Section of the Course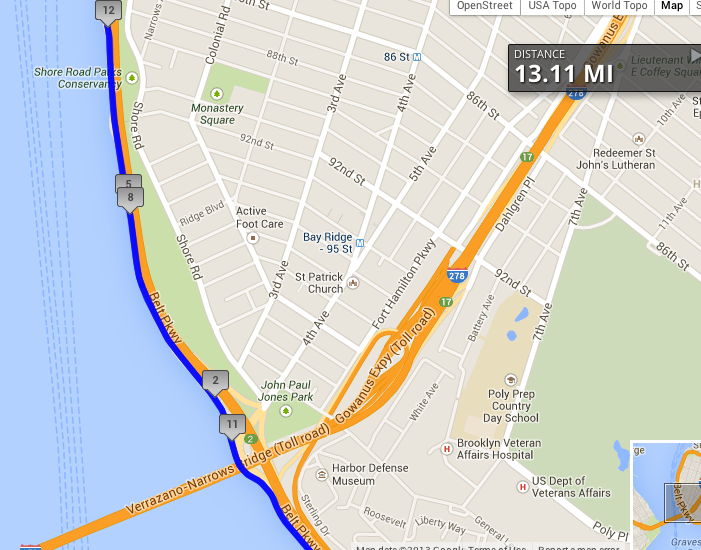 South Section of the Course